We hope you like the products we recommend! Just so you know this post contains affiliate links and I will be compensated if you make a purchase after clicking our links.
Buying a cat harness isn't just about being able
to walk your cat around the neighborhood; it can be useful in several
scenarios: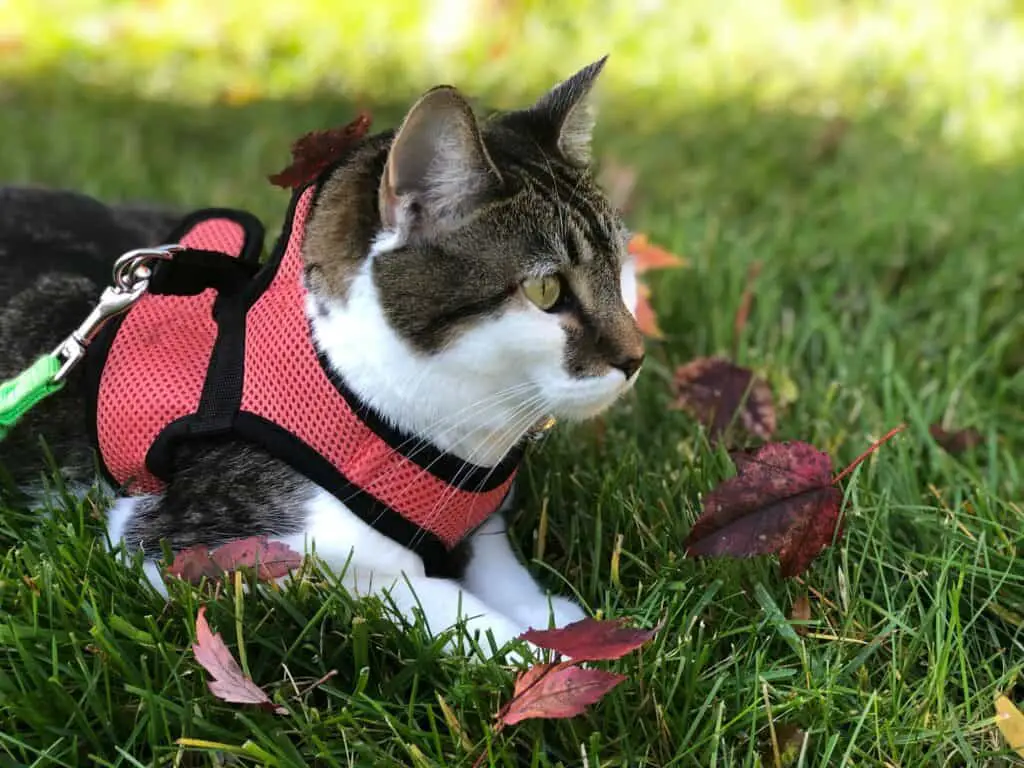 It's a way of exercising a cat recuperating from illness or injury.
If you've just moved house, it helps introduce a cat into its new surroundings in a safe and supervised way.
We often recommend using the harness and leash attachment inside backpacks or carriers when you're traveling with your pet. If you're flying with your cat, for example, you'll need to take them out of the carrier for security screening and without a harness or leash, your cat is at a higher risk of getting loose.
if your cat is in a cat car seat, you should secure them to the seat using a harness and the seat's attachment strap.
If you live in an area with predators of if you're near to a busy street, then a cat harness and leash allows you to safely walk your pet.
Some people enjoy hiking or motor homing with their cats and the harness allows for peace of mind when away from home.
If you enjoy bike rides with your cat, a harness will secure the cat to the front basket or a bicycle trailer pulled along behind.
 ***
We wanted to take a closer look at some of the best cat harnesses on the market to buy.  We'll give a detailed account of some of the available products as well as a brief buyer's guide to get you thinking about the type of harness you'll need.  We've added a couple of the bestsellers right below this section so you can jump straight into shopping if you'd prefer. 
As always, we're an Amazon affiliate so if you make a purchase using any of the links below then we'll make a small commission at no cost to you 😊
Last update on 2023-12-09 / Affiliate links / Images from Amazon Product Advertising API
What Should I Look for in a Cat Harness?
Always measure your cat before buying a harness and use this against the manufacture's sizing options.  You shouldn't always trust generic sizing options such as small, medium and large because this may not be accurate enough for your pet.  The harness should be secure but not too tight.  It should be comfortable for the cat to wear, too.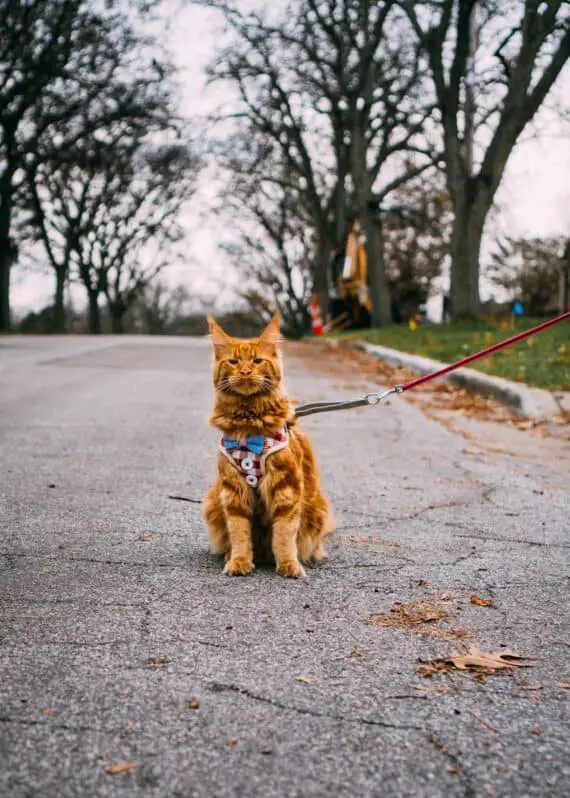 Always measure your cat before buying a harness and use this against the manufacture's sizing options. You shouldn't always trust generic sizing options such as small, medium and large because this may not be accurate enough for your pet. 
The harness should be secure but not too tight.  It should be comfortable for the cat to wear, too.  You should be able to slide an index finger under it. Some harnesses can be adjusted sufficiently to cover a wide range of sizes right from kitten to adult cat.
You might be tempted to wait until the cat is older but the sooner you can start harness training the better.  Younger cats are often more willing to try new things than older ones.
You can get harnesses that are essentially just straps that click together or ones that look more like jackets or vests. Strap ones tend to have a wider range of adjustments but some owners prefer the vests because they're often easier to put on.

 

We wouldn't advise attaching a leash directly to the collar because a sudden pull on the cord could cause injury to the neck. If a cat gets loose, it can also be dangerous to have a leash trailing after the cat and collar.
Generally, it's safer and less stressful for everyone if an owner uses a harness.  Fortunately, harnesses are not expensive and come in a range of styles to suit most cats.
Think about your cat's personality, too. Calmer cats will probably be fine with the thinner harnesses; they should be happy letting you put the harness on and then quite content to wear it around.  Other cats might be better in the jacket or vest harness with Velcro because it's harder for them to wriggle out of.  They often have a D-ring, too, to attach the leash which makes training easier.
Look for breathable material.
Pay attention to the types of straps and attachments the harness has.  Long-haired cats might get their fur caught in the straps.
Velcro makes it easy to get a cat in and out of a harness.  It's worth remembering though that the sound of Velcro being ripped open might aggravate some anxious cats especially if it's near their head.  
Check there's a D-ring to attach the harness to a leash.
Harnesses that put the light pressure on the shoulder and chest are better than those that go around the neck.  You'll find most harnesses fulfil this.
If you're going to be walking your cat at night, then you might want to consider a harness with reflective strips.
A lightweight harness will be more attractive to some cats.
If you have a larger cat, you may need to widen your search for harnesses that also fit small dogs. They are available and we'll list examples below.  It's worth looking through the reviews to ensure that people have had good experiences using these for cats, too. Some dog harnesses will be too big and unsuitable to use for other pets.
If your cat loves exploring, you can buy harnesses with a bungee leash so there's a little give when the leash runs out and stops the sudden pressure being placed on the neck or chest.
2 Important Points to Remember
Two things that we keep seeing repeated about cat harnesses that are worth bearing in mind:
Almost all of these harnesses have reviews that say that they come up small.  We'd recommend double-checking the sizing guides and measuring your cat before buying. Don't just rely on choosing small, medium or large but look at the dimensions because sizing differs between manufacturers.

 

Harnesses will often advertise themselves as "escape-proof" which we disagree with.  No cat harness is escape-proof but some features make escape less likely than others. It will also depend on your cat's personality as to how much of a Harry Houdini he or she is.  You should look at the material's quality, the type of buckles or straps used and the product reviews by verified customers.

Best Cat Harnesses
This cat harness adjusts from a size suitable for kittens right up to full-size cats. It makes it a good option if you have more than one cat or if you're eager to start training your cat from a young age.
Sale
pidan Cat Harness and Leash Set, Cats Escape Proof - Adjustable Kitten Harness for Large Small Cats, Lightweight Soft Walking Travel Petsafe Harness((Multicolor)
COMFORTABLE: pidan made harness with the most light weight materials available so that your Kitty won't even notice they are wearing this harness.
ADJUSTABLE: You can adjust the length of the rope through the button on the rope.This Harness is adjustable and the standard size is from small kitten to large cat. Escape proof and features the unbreakable infinity ring.Small animals such as rabbits also apply.
EYE-CATCHING LOOK: Put the Multi-color splicing pattern on your lovely cat. This amazing cat harness will be a complete charming outfit of your sweet kitties.
EASY CONTROL OF YOUR LOVELY PETS: Pidan's durable cat harness with leash set offers a safe option for your feline friend to explore the world.
DIMENSIONS: Fit for Neck Girth 7.8″-12.2″, Chest Girth 10.2″-16.9″, Leash Length 48″. Please check your pet's neck girth and chest girth before purchase. Up 14 inches in the abs(measure around kitty directly behind the front legs).
Last update on 2023-12-09 / Affiliate links / Images from Amazon Product Advertising API
We love the pattern on this harness. Although the design probably isn't high up on your list of harness must-haves, it's nice to see one that's different and colorful. 
Features:
Neck size 7.8 inches – 12.2 inches.
Chest 10.2 inches – 16.9 inches.
The leash length is 48 inches and fits around the cat up to 14 inches.
Soft polyester strap
Metal buckle and ring
Pros:
Quick-release buckles for safety if the harness gets caught on something.  It also makes it easier to put it on the cat.
It's got an attractive design
Doesn't put pressure on the cat's throat
Adjustable sizing makes it usable throughout your cat's life from kitten to fully-grown.
Cons:
Some owners have suggested that this is a little snug so double-check the sizing issues. 
This is a popular cat harness but we'd never take the "escape-proof" label too seriously. 
This is a really popular option and it has a lot of positive reviews that you can browse through. It comes in a range of colors, too, which means you can pick one for your pet's personality. 
rabbitgoo Cat Harness and Leash for Walking, Escape Proof Soft Adjustable Vest Harnesses for Cats, Easy Control Breathable Reflective Strips Jacket, Black, XS
Cat Harness with Leash, Fits Average Cats: Size measuring:Neck Girth: 8.5 -11 Inches, Chest Girth: 13.5 - 16 Inches. Please measure your cat carefully and refer to the size chart before order. (Tips: Your cat's head circumference should be at least 10 inches or your cat may slip out.) Package includes: 1x Small Cat Walking Vest and 1x Walking Nylon Leash (150cm)
Comfortable Outdoor Harness: This real comfy cat harness will snugly fit your feline friend's body, while still keeping him or her cool with its breathable air mesh. Soft and lightweight (approx. 100g), suitable for daily walking, jogging, training, and any outdoor recreations. Also a perfect comfort harness when you're taking your kitty to an unfamiliar place, such as the vet or groomer
Escape Proof Cat Harness: This adjustable kitty harness features 4 adjusting straps which allow a just-right fit for your flexible cat. Both sides have a sturdy safety buckle for a more secured closure - never worry about your cat getting lost during outdoor adventures (Tips: The harness should be snug enough for you to fit one finger between the straps and any part of your cat's body)
Cat Safety Harness: You can attach the long, sturdy nylon leash to the metal leash clip on the back, allowing your kitty to explore the great nature safely and enjoyable. Its vest-style design can evenly distribute leash pressure across the chest and shoulder to prevent choking or neck strain, which is much safer and more comfortable than a basic halter or H-style harness. The reflective strips will keep your kitty always visible in dark environments
Hassle-Free Overhead Harness: This easy-wearing harness is simple to put on and take off with 2 snap side-buckles and 4 fully adjustable straps. (Tips: To help your sensitive friend get familiar with this new feeling of wearing a harness, try to place it near your cat during sleeping or feeding time)
Last update on 2023-12-09 / Affiliate links / Images from Amazon Product Advertising API
This has reflective strips so your cat can be seen in the dark. 
Features:
Size measuring: Neck measurements 8.5 – 11 inches.  Chest measurements 13.5 to 16 inches.  Your cat will need a head circumference of at least 10 inches to wear this one.
Closure type: clip
Black metal ring to stop pulling against the throat
Made from soft breathable mesh
Pros:
Quick-release buckles make it easy to get the cat in and out of the harness.
Metal leash attachment attaches the leash to the harness
It's made out of sturdy nylon webbing
There's no Velcro so this may be more suitable for cats who are easily startled by strange noises.
Adjustable buckles – 2 neck straps and 2 chest straps for security.
It's lightweight
Cons:
Not machine washable. 
Make sure you double-check the sizing because some owners have said it comes up small. 
This comes in different sizing options from small right up to x-large, so you're more likely to find a size that's suitable for your pet. 
PUPTECK Soft Mesh Cat Vest Harness and Leash Set Puppy Padded Pet Harnesses Escape Proof for Cats Small Dogs Rabbits Bunny(Small, Black)
[TIMELESS DESIGN] - Compared with other very fancy cat harnesses, this one uses a very simple vest-style design, and it is a solid color, which is classic and never out of date. It's always an excellent harness no matter when your cat wearing it. The harness is suitable for cats, puppies, small breeds dogs, small animals, and rabbits. Please refer to our size information to confirm.
[STANDARD MATCH] - Yes, you will receive a vest harness and a walking leash for one purchase. We already put the best matching together, so you don't need to purchase them separately, you save money and time!
[PREMIUM MATERIAL] - The harness is made of non-toxic polyester materials, and we adopted an air-mesh design, which is very soft and breathable for cat-wearing. Even though on hot days, your cat still will feel cool and comfortable. Besides, the harness is so lightweight, your cat won't feel any pressure during walking or running.
[EASY TO OPERATE] - You can quickly put this harness on your cat's body even though your cat doesn't like it! Just need three steps: open the neck and chest closure, let your cat's head and front leg through, and finally reclose the harness, done! The back of the harness has two D-rings which allow you to connect the leash, it's very durable!
[MULTI SIZES FOR CHOICE] - [Small: Neck girth 6"-7.5", Chest girth 8.5"-10.5"]; [Medium: Neck girth 7.5 - 9", Chest girth 10.5"-13"]; [Large: Neck girth 8.5"-10.5", Chest girth 12"-16"]; [X-Large: Neck girth 10.5"-13", Chest girth 14"-17"]. Please carefully measure your cat's body size to confirm, and please leave 2 fingers room to make sure your cat is comfortable. ⚠The small size is only suitable for kittens and ultra small pets.
Last update on 2023-12-09 / Affiliate links / Images from Amazon Product Advertising API
It has 2 heavy D rings that you use to attach the leash. 
Features:
Size M: Chest girth: 11.1″-14.8″, Neck girth:8.6″-9.9″, Leash size:59″ (150cm).
Size S: Chest girth: 11″-13″, Neck girth:8″-10.5″, Leash size:59″ (150cm).
Size L: Chest girth:14.1″-16.1″, Neck girth:10.1″-13.1″, Leash size:59″ (150cm).
Pros:
Two heavy D-rings for security
Because this is a vest type harness, the pressure is more equally distributed across the cat's shoulders and chest rather than the throat or neck.
Velcro around the stomach and neck sections for a secure fit
Adjustable slider for a comfortable fit and there's a buckle, too.
Good sized leash
Cons:
Not escape proof so probably less ideal if you have a cat who can escape easily. 
We've included some colorful designs but this is a plain black harness which may appeal more to owner's who want a less conspicuous harness. 
Technically, this is a harness for dogs but owners have used it for their cats, too.  It means you have to be careful about sizing but we LOVE the camo pattern. There are also other colors and designs to choose from.
Sale
Last update on 2023-12-09 / Affiliate links / Images from Amazon Product Advertising API
The attachments are strong and durable (and used in professional mountaineers' equipment) and designed for dogs so should be secure enough for your cat. 
Features:
You'll find a handy sizing chart for all the different sizes from extra-small right through to sizes suitable for big dogs.
Water repellent and breathable material
Double-coated D-rings
Pros:
Wide range of sizes
Different designs and colors to choose from
Adjustable chest belt for security and comfort
Quick-release buckle for easy access and safety
Can be machine washed although manufacturer's advice handwashing.
Suitable harness for larger cats 
Cons:
Sizing seems to run a little small so double-check before ordering. 
Harnesses that are designed initially for dogs might be the best cat harness to buy for large cats like Maine Coons but again, be careful about the sizing. 
We love that 10% of the proceeds from sales of the Kitty Holster cat harness goes to an animal charity.
Kitty Holster Cat Harness
Ultra lightweight
Soft, non-abrasive 100% undyed cotton lining
Secure hook and loop closures
D-ring for attaching leash
Made in the USA
Last update on 2023-12-09 / Affiliate links / Images from Amazon Product Advertising API
This is made in the USA
Features
Made from soft non-abrasive undyed cotton
Sizing listed on individual product pages but fits 9″ – 12″ neck and 13″ – 17″ chest girth
Pros:

Comes in several designs
Uses a secure and hook-and-loop closing system
Cons:
A leash is not included
Not as much information on the product page (aside from the pertinent information), but there are lots of positive reviews and you can ask any questions in the Q and A section.
Yizhi Miaow Cat Harness and Leash
We love the polka dot design on these harnesses and it comes in different colours. 
Yizhi Miaow Cat Harness and Leash for Walking Escape Proof for Winter, Adjustable Cat Walking Jackets, Padded Stylish Cat Vest, Polka Dot Black, Large
Why choose Yizhi Miaow cat harness? Because cats are built differently than dogs, Yizhi Miaow cat harness and leash is designed specifically for cats without a lot buckles.
The cat harness and leash set is escape proof with durable, strong hook and loop fastener. It's lightweight, safe on delicate skin, easy to fasten & has no harsh webbing or buckles.
This adjustable cat harness will fit your cat properly, it's a good cat vest harness if you choose the right size. Please refer to the second photo for size chart and measure your pet chest girth and neck girth.
The package comes with harness, training leash and training guideline. We also added a lot videos on Amazon to help you with the cat leash training.
Yizhi Miaow harness is very difficult to escape from if you learn to control the leash. You need to train your cat until the harness will act as a safety mechanism rather than a tool to drag your cat around with. It's normal that your cat will keeps falling over at the very beginning, please practicing 30 minutes indoor every or twice a day. Please refer to the video for cat walking training tips.
Last update on 2023-12-09 / Affiliate links / Images from Amazon Product Advertising API
Uses Velcro which saves you having to strap the cat in through buckles. 
Features:
Sizing comes with weight limits, too, which should help you pick a more accurate size.
Pro:
Chest and neck strap secure it and makes it easy to put on.
Good ventilation
Fun design
Cons:
Some reviewers have found that the sizing is smaller than expected.
Buying a cat harness can make you feel better about taking your cat outside whether that's for walking around the neighborhood or making sure your cat can stay safe in airports etc.
Our biggest piece of advice is to start training your cat to use the harness as soon as you can. Ideally, from when they're a kitten. 
If you haven't seen anything that you think is suitable, then there's a range of cat harnesses on the Chewy website, too.  They're one of the biggest names in the US for online delivery of pet items and have some great deals including on cat harnesses.  
FAQs
Can I walk my cat with a harness?
If you're planning on taking your cat for a walk, we'd
recommend using a harness. It's safer than attaching a leash to a collar and will give you peace of mind if you're walking in urban areas or through busy public places like airport terminals and bus stations. 
You can train most cats to use a harness but some breeds and personalities will be more open to the idea than others. Some cats take right to it but others will require some training and reassurance. We'd recommend harness training from kittenhood to give you the best chance of getting your cat used to wearing one. 
If you're walking your indoor cat outside for the first time, a harness can be a great way of getting them used to the surrounding area safely, but remember that the first couple of times outside might be overwhelming so move at a slow pace if your cat doesn't take to it right away.  If you're harness training for a specific reason (for example, an upcoming vacation), then introduce them to the harness as soon as possible so that they've got plenty of time to adjust to wearing it. Remember, too, that even with a harness you should be mindful of what's happening around your cat including passing traffic, other pedestrians, dogs, and places with loud noises. 
Why won't my cat walk in a harness?
Some women don't like walking in high heels and some men don't like wearing ties. It's the same with cats: some cats just won't walk in a harness. You have some cats that will just freeze or topple over when a harness is put on them. This is because they're not used to the sensation of wearing one. 
Others may bite and try and claw their way free.  Remember that cats have never been domesticated as dogs have. They don't always do well when constrained with straps or buckles especially if they're an older cat and have never been leash or harness trained before.  If the cat is just a little weirded out by the harness, then leave it on for a bit and let them get used to it. 
You might like to distract them by giving them affection or treats.  If your cat is distressed, then take the harness off and take it slower. You should give them time to get used to smelling the harness and see if you can lie it on them without actually putting them in it. Some cat will never get used to wearing one.
If you've tried everything and been patient, there's no reason to force them and traumatize your pet. If your cat seems fine with the harness, let them wear it around the house so they can get used to it.  Owners often leave them on for a while and then attach the leash and let it trail after the cat (supervised).
Getting a cat used to a harness is one thing, walking them is another. Once they're happy to wear it and you've attached the leash then you'll need them to walk with you. Hold the leash in your hand but let them wander where they like. Once they seem happy, start to lead them slowly and carefully until they're used to it. The key with cats whether it's training them to use a carrier, a litter tray or to walk with you, is patience and perseverance.  
You can't rush them. 
Is it weird to walk a cat?
Some people think it's weird to walk a cat but that's because it's still quite uncommon. We're used to seeing cats wandering around of their own volition or being indoor cats. Owners might choose to walk a cat for several reasons: because it's unsafe to exercise them any other way, because of an injury or illness or because the cat enjoys it. 
People think all manner of things are weird when they see something outside of their experience. Don't take any notice if your cat enjoys it and gets something out of it. 
Likewise, if you don't want or need to use a harness on your cat then don't. 
Can a cat wear a harness all the time?
We wouldn't let a cat wear a harness all the time.  When you're first training them it can be helpful to keep it on them for an extended period (a few hours, perhaps) but it will depend on their personality and how well they take to it. 
We'd recommend removing the leash so that they can't get tangled up in anything. If your cat is happy wearing a harness (and doesn't cause any problems when you try and put it on), then we'd remove it when they no longer need it. 
For us, it would be a safety issue as a harness can catch on things and become a choking hazard. If your cat is wearing a vest harness, then it will stop them grooming themselves properly so we wouldn't let a cat keep it on permanently for that reason also.
How long should a cat wear a harness?
When you're first training your cat to wear one then keep it on for a few minutes at a time. There's a balance to strike here so that they can get used to it comfortably but without stressing them out unduly.  Some cats take to it almost immediately. It really depends on the type of personality that they have. 
Often with cats, it's better to do things small and often but once they're over the initial shock of the harness it can be useful for them to wear it for several hours (without the leash attached and with them being supervised) so they can get used to the feel of it. 
Take your cue from the cat; they'll let you know how long they're happy to have it on for but, as we said in the previous section, remember that harnesses can get caught on things and can, therefore, be dangerous.  They can also make it difficult for a cat to groom themselves.