We hope you like the products we recommend! Just so you know this post contains affiliate links and I will be compensated if you make a purchase after clicking our links.
Disclaimer:
As an Amazon Associate, I earn from qualifying purchases. I get commissions from purchases made through links in this post.

Last December, we decided to buy a cat carrier at Argos.
We'd limped along using the battered box that had come with our rescue cat but it sorely needed replacing.
We'd booked the cat into a boarding cattery for over the new year and were dreading it. It felt as if we were betraying her and just as she'd started to settle in. Now, we were bundling her into a box and sending her to live somewhere else.
I hated the thought that she wouldn't know she was coming back.  Although, I suspect that was more my anxiety than hers because, long story short, she was absolutely fine and had a blast during her vacation.

In the lead up to handing her over, however, I realised that a big part of my anxiety revolved around our battered old cat carrier. 
Whilst it was sturdy, there was a clip missing at the side and the plastic sometimes creaked when she moved.  The lady who fostered rescue cats was kind enough to give it to us but we had no way of knowing how old it was.
We're fortunate enough to live a 3-minute walk from her veterinarian but even when taking her I'd deliberately hold the carrier steady with my hand under the base. I was worried that the carrier would break and she'd escape.  The kindest thing I could do for and the safest thing I could do for her was to buy a new one.
And there was no way our cat was going in the car without a carrier.
We spent some time discussing the pros and cons of getting a hard or soft cat carrier.  We chose plastic in the end because we wanted something durable and sturdy.
There's a huge range of carriers to pick from.  Many of them are online and that's part of the problem: it's far better to see a product and to test its quality before buying, but we found some of the high street retailers were selling cheap plastic carriers or ones that were very expensive. 
We were trying to be realistic: we wanted to get our cat from A to B safely but did she really need a plastic palace? She acts like a Queen as it is. 

The Large Cat Carrier We Bought from Argos

(If you're based in the USA, then we've found something very similar on Amazon.  It looks the same, the dimensions look the same and the reviews positive.)

This is the large cat carrier that we bought through Argos

Our decision to buy a large cat carrier at Argos came down to the fact that we trusted them as a retailer.  We've purchased many items over the years and without any issues.  The price was very reasonable and the reviews were excellent.  Argos also offers returns so if you're not happy with the build-quality then you can always send it back.  They have a handy Q&A section on each page where you can ask a representative a question and read answers to other people's questions.  It's easy to navigate and read genuine reviews, too.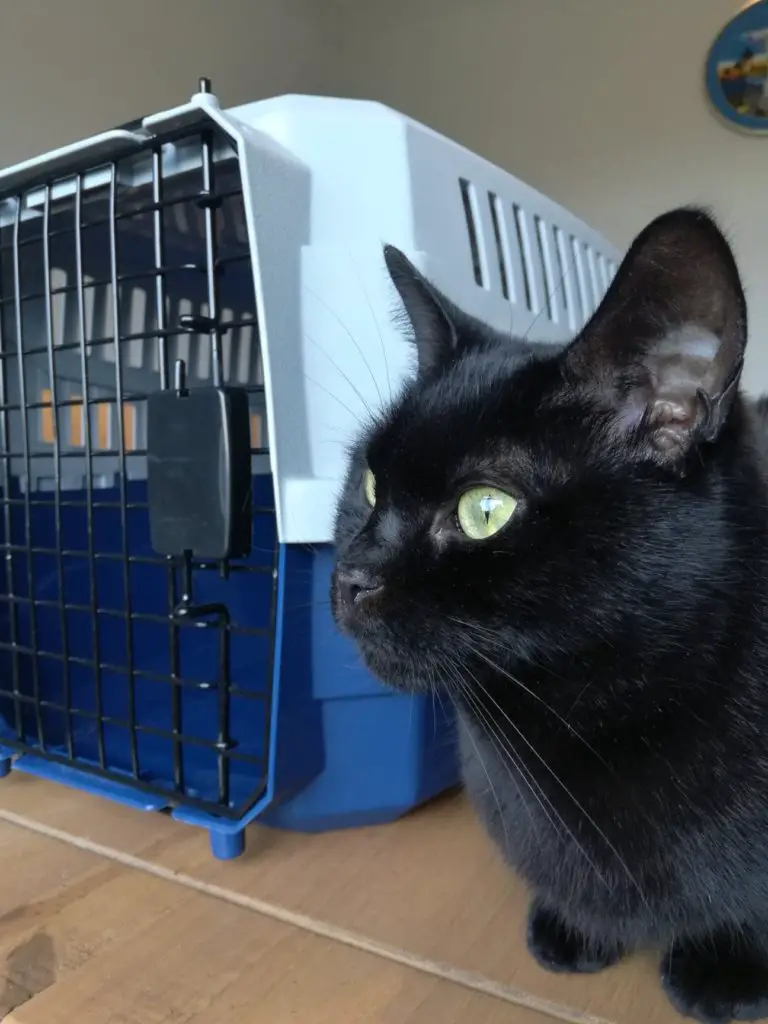 We settled on a carrier that's unbranded (literally the product is called Large Cat Carrier) but it's recommended by 97% of customers and has a raft of positive reviews.  We read through them and felt it was the right one for us.
We picked the large carrier because its dimensions were the closest to our pet's size.  Surprisingly, our cat is actually pretty small but the medium size just didn't seem big enough for her to lie down or stand up in.  Make sure you measure your cat tail to nose before buying and compare your numbers to the carrier's size. Quite a few reviewers agree that medium is a little on the small size. There was only a £5 difference between the two sizes so we were happy to go larger.
The dimensions are: H33, W38.7, D58.4cm and the weight is 1.98kg.
You can see the medium size cat carrier here:
It's made from durable plastic with a metal mesh grate.  Once we'd assembled it (which didn't take long), we were happy with the quality and certainly felt that it would take the weight of our pet.  It was relatively lightweight.  I think cat carriers are often heavy even before you put the animal, in so I can't speak for the weight of this one compared to others but I'm okay walking it down the road with the cat inside.
Empty is weighs 1.98kg
We were pleased to see it comes with a 2-year manufacturer's guarantee, too.
Its self-assembly and it didn't take us that long.  Although, there weren't any instructions in the box. If you go to the product page on the Argos site, however, they've since added a PDF showing how to assembly it.  People were confused by the six-bolts included. These secure the sides together if you don't just want to rely on the plastic clips.
I really liked how it can be a top-loading carrier (ideal for difficult cats) but that you can also screw the top and bottom sections together for extra security. 



Our cat is one of those rare breeds: she actually doesn't mind getting into a carrier so we felt the top-load was unnecessary. Once screwed together the carrier felt very secure.
The spring-loading lock was secure, too. It clips into place and feels very safe.


The inside is easy to wipe down and it's well ventilated. There's slits along the top and the mesh grill allows the cat to see outside.  If you have a nervous cat, then it would be really easy to (ad) spray some Feliway inside and cover the top with a blanket or towel.
Another reason we decided to buy a cat carrier at Argos was because they deliver.  It was less than £4 for next-day delivery, and we added a few extra items to our order to make it ever better value.  You can click-and-collect or just go to a store and grab one.  We'd definitely recommend using the online stock checker first just in case your local store doesn't have it.
We're really happy with the cat carrier and we've since recommended it to family and friends, too.  Argos do have other carriers and it might be that you find you prefer one of those.  The Rosewood plastic kennel comes in a medium and large size but whilst it has fewer reviewers than the one we purchased, 97% of customers would recommend it.  It's a few pounds more expensive but it does include a cushion.
Buying a cat carrier is a big deal especially if you have a house cat or if you have a cat prone to anxious outbursts.  Our advice is to do your research, make sure your buying the correct size and look at the reviews.  Everyone who says something good or bad about a product was in your shoes at some point. The 350+ positive reviews was the deciding factor is why we bought a cat carrier from Argos and not from another retailer.