We hope you like the products we recommend! Just so you know this post contains affiliate links and I will be compensated if you make a purchase after clicking our links.
We've tried cutting our cats claws but she's a little wriggler so every time she sees the clippers, she's ready to bolt.
Fortunately, we have a range of scratching posts and cat trees throughout our home and this seems to go some way to keep her nails
sharp and short.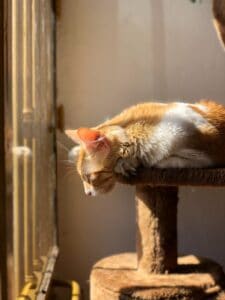 We wanted to gather together some of the top-rated products to find out what's the best scratching post for cats and what makes them so popular with customers. 
In a hurry to get shopping?  Here are two cat scratching posts that are highly rated.  As always, we use affiliate links so if you click through and make a qualifying purchase, we may make a small commission at no cost to you 😊
Last update on 2023-12-07 / Affiliate links / Images from Amazon Product Advertising API
How to Choose the Best Scratching Posts for Cats
You should think about the size of your cat.  Larger cats may want to sit on their back legs and scratch upwards so you should pick a bigger post or it might be better to choose a cat tree.  Measuring your cat from nose to tail and then comparing this to the manufacturer's dimensions will help ensure you're picking the right size.    
Look at what your cat is doing when it's clawing
at furniture or wallpaper: do they scratch sitting or standing on their
back legs upwards? or do they do it horizontally? Our cat does both but she seems to prefer an upright post so that's what we usually buy. See what your cat does more often and buy accordingly.

The more cats in your home the more posts you may need as some pets don't like sharing. Place the posts wherever there's a lot of
foot traffic.

Cat scratchers will take a battering so it's important to pick one that's durable. Customer reviews are often a useful way of seeing whether a product is robust enough to last a few months or years.
Scratching posts are made from different types of material everything from sisal rope to cardboard and carpet. Sisal rope is one of the most popular types and can be replaced and rewound if necessary.
If you travel with your cat a lot, then you can buy smaller scratching posts which would easily fit into a bag and could be used in a hotel room.

If you have limited floor space (or if your cat doesn't have many places to escape to), you might consider a cat tree.  Cat trees often have inbuilt scratchers and
as they go up rather than across, they're great for space-saving in apartments.  Cat trees also encourage climbing which will keep indoor cats happy.  
10 Best Scratching Post for Cats
Best Budget Scratching Post – AmazonBasics Cat Scratching Post and Hammock
Last update on 2023-12-07 / Affiliate links / Images from Amazon Product Advertising API
It's more towards the budget end of things but it has great reviews for being durable. You can add a dangling toy, too, to encourage playtime and scratching. 
We love how this is a cat hammock as well as a scratching post.  It provides a comfortable place for your cat to curl up and watch over their territory.
Key Features:
Dimensions:15.75 x 15.75 x 19.69 inches
Weighs: 8.95 Pounds
It comes in 4-pieces but is very easy to accessible
Use a vacuum to remove cat hair and shedding material
Made from natural jute fiber
Pros
It has two scratching posts with a soft hammock in between
It comes in a choice of beige color or gray to suit the interior of your home
There's a dangling toy included to encourage play and indulge a hunting instinct.
It's an Amazon bestseller with over 12,000 reviews. 
Cons:
Some customers have reported that it sheds quite a lot onto the floor. 
We really like how this is two posts and a hammock rather than just a single vertical post. We prefer the gray design to the beige but it's great that you have a choice. 
Best Scratching Post for Large Cats – SmartCat Pioneer Pet Ultimate Scratching Post
SmartCat Ultimate Scratching Post – Beige, Large 32 Inch Tower - Sisal Fiber, Simple Design - For All Cats
DURABLE SISAL: A durable sisal fiber design ensures the SmartCat Ultimate Scratching Post will stand up to your cat's claws, less snagging like carpet or furniture fabrics.
TALL AND STRONG: The sturdy design of the scratching tower allows kittens and cats of all sizes to fully stretch when they scratch.
GOODBYE CLAW MARKS: Satisfy your indoor cat's natural urge to scratch and protect your furniture while your cat gets in their exercise and stress relief.
EASY SETUP: Assembly is a breeze with our simplistic design, requiring only 2 screws and two dowels to go from the box to your living room.
MODERN AND NEUTRAL: Our design is easy on the eyes and neutral color options allow your cat's favorite activity to be placed seamlessly alongside your furniture.
Last update on 2023-12-07 / Affiliate links / Images from Amazon Product Advertising API
You'll find a lot of cat trees for Maine Coons and large cats but some owners just want a simple scratching post.  This is a solid and durable post that's big enough for large cats – but we'd always recommend measuring your own cat first. 
We love the neutral tone of this post.  Ideal if you don't want it to stand out. 
Features:
Project dimensions: 16 x 16 (base) x 35 inches
Weight: 2.2 Pounds
You use dowels to join the base pieces and then screws for the post
Made from sisal fiber (not rope)
Pros:
It allows the cat to get a full stretch
Sturdy base which makes it harder to topple
This is one of the more attractive cat scratching posts available and its neutral color means it should fit into most homes. 
Cons:
You can't switch the top and the bottom so if the very bottom or very top begins to age you can't reverse it. 
We love how tall this is which makes it a viable option for large cats.  We've found a lot of cat posts do tend to me for small to medium cats so it's great that this is available. 
What's the best cat scratching post to file nails? Petstages Cardboard Cat Scratchers
Catstages Scratch & Play Tower Track Cat Scratcher with Feathers and Ball Track
3-IN-1 SCRATCH & PLAY: This delightful scratcher toy comes with a central track and jingle ball, a feather tassel ball, and two types of scratching material to keep your curious cat engaged.
DETERS DESTRUCTIVE BEHAVIOR: This dual scratcher cat toy has a minimalist design that can be placed in any room to deter your kitty from tearing up your favorite furniture by providing a positive and satisfying alternative.
MULTIPLE SCRATCHING SURFACES: The Scratch & Play Tower Track is made of your kitty's favorite scratching materials! The base is constructed out of high-density corrugated cardboard and tower is wrapped in sisal rope to satisfy their grooming needs.
CATNIP BLASTED TO ENTICE: Covered with dried catnip this scratcher toy will help attract your kitty and trigger their impulse to play.
PLAY IT SAFE: No toy is indestructible. Do not leave toys with unsupervised pets. Remove and replace toy if damaged.
Last update on 2023-12-07 / Affiliate links / Images from Amazon Product Advertising API
We love how this includes extra activities including a feather tassel and a trackball.  Be sure to click through to the other items on the pages, too, as the company has a range of other designs that you may find more suitable. 
This is made from sisal rope which makes it durable and very well suited for filing nails. 
Features:
Dimensions: 21 x 12.75 x 12.75 inches;
Weighs: 3.31 Pounds
It's easy to assemble
Pros:
Additional play elements included
Catnip blasted
Attractive design
Cons:
Might not be tall enough for bigger cats. Always check before buying.
Best Horizontal Scratching Pad – PetFusion Ultimate Cat Scratcher Lounge
PetFusion Ultimate Cat Scratcher Lounge, Reversible Infinity Scratcher in Multiple Colors. Made from Recycled Corrugated Cardboard, Durable & Long Lasting. 1 Yr Warranty
CATS LOVE IT: A scratcher, lounge, & SO MUCH MORE (see video on left). Incl premium USA organic catnip leaf. Natural scratching = healthy claws, great exercise, & stress reliever ... (better overall wellness)
THOUGHTFUL DESIGN: Curves make for easier scratching & a more comfortable place to rest & play. Naturally attracts cats. Interactive
GREAT VALUE: 34 x 10.5 x 10.5 inches. Reversible for 2x the use. Superior cardboard & construction lasts longer than other scratchers; preferred by cats (please read our reviews). Large surface area to hold multiple or larger cats & provide generous scratching space
AWARD WINNER / BEWARE OF CHEAPER COPYCATS THAT BUY REVIEWS IN EXCHANGE FOR FREE OR HIGHLY DISCOUNTED PRODUCT: 2015 Eco-Excellence Award. Featured on Animal Planet's 'My Cat From Hell'. Top 19 Cat Products (2016 BuzzFeed viewer selection)
Last update on 2023-12-07 / Affiliate links / Images from Amazon Product Advertising API
We love how stylish this horizontal scratching post is and it should blend into the décor of almost all homes. It's ideal for owners who don't like some of the more traditional pet items. This isn't just a scratcher – it's also a comfortable surface for your cats to relax and lounge on. The manufacturer recommends that you put it in a sunny spot of the house and we think it's a fab idea. 
You can reverse it so that you get twice the amount of usage from it.
Features:
Dimensions: 34 x 10.5 x 10.5 inches
Weighs: 7.5 Pounds
It's made from recycled corrugated cardboard, non-toxic corn starch glue, premium satin cardboard siding.
No need to assemble
Pros
You can attach them to the wall to make them into cat shelves, too.
Has a cat nip scent to encourage cats to use it.
Can be used for play with fishing line feather toys moved through the gaps.
Featured on Animal Planet's 'My Cat from Hell'.
The large surface area means more than one cat can use it at a time.  If you buy a second one, you have a much larger surface area. 
Cons:
The shredded cardboard will eventually start to shed and make a small mess on your floor that will need to be swept or vacuumed up. 
This is one of our favorites because we just love the design.  We've got so many cat scratchers that look out of place in our home but this really blends in and most of our visitors don't even realize it's a cat scratcher. 
Best Scratching Post for Kittens – 4 Paws Stuff Tall Cat Scratching Post
4 Paws Stuff Tall Cat Scratching Post Cat Interactive Toys - Cat Scratch Post Cats Kittens - Plush Sisal Scratch Pole Cat Scratcher - 22 inches (Beige)
EFFECTIVE WAY TO KEEP YOUR CAT FROM SCRATCHING FURNITURE - cat scratch post tree will serve as a fun playground for pets and at the same time as their own scratching zone
A LOT OF FUN ACTIVITIES - cat sisal scratching post is designed with two different captivating toys that will entertain your kitty whether it is a kitten or a senior cat
NATURAL MATERIALS - the 22-inch cats scratching post tree is wrapped in sisal rope and plush - eco-friendly materials of the cat tree are absolutely safe for both people and pets
STABLE BASE of the sisal pole for cats is made of thick pressed wood which provides reliability and stability of construction; FREE velcros will help to prevent spoiling the floor
EASY TO SET UP - cat scratching posts require minimum assembling efforts; just screw all parts together, and kitten scratching post is ready to use (screws included).
Last update on 2023-12-07 / Affiliate links / Images from Amazon Product Advertising API
This scratching post is ideal for kittens but it could also be big enough for them to grow into. There are additional interactive play elements, too, which makes it more than just somewhere for your kitten to stick its claws into. 
It's wrapped in sisal rope which is known to be a durable material for posts. 
Features:
Dimensions: 11.41 x 11.41 x 22.04 inches
Weight: 4.49 pounds
Thick MDF base with Velcro included for stability
Easy to assemble
Pros:
Two toys for the cat to play with: marble moving ball in the base and a dangling pom-pom.
Eco-friendly materials including the sisal rope
Cons:
Some reviewers have written that it can tip over quite easily.
We really like the additional toys included in this which is why we've included it as ideal for kittens. There's a lot to keep them occupied. 
Best Fun Cat Scratch Post – VETRESKA Cactus Cat
VETRESKA Cat Scratching Post for Indoor Cats - 31.5Inches Cactus Cat Scratch Posts,Large Sisal Cat Scratcher Heavy Duty Cat Scratch Tree for Cats Kitten in All Life Stages
🌵【Durable Jute Rope】: The all-natural jute rope used in the construction of the Cactus Cat Tree is specifically chosen for its durability and texture, making it an ideal material for satisfying your cat's natural scratching instincts. Wrap the entire body tightly with jute rope from top to bottom, providing a more sturdy and long-lasting scratching surface.
🌵【Versatile Climbing and Lounging】:31.5 inches, with its tall and sturdy construction. This cat tree offers multiple levels and sturdy arms for your cat to explore, climb, and perch upon. From the top, adventurous cats can enjoy a panoramic view of their surroundings, while sleepier kitties can find comfort and relaxation on the sturdy arms.
🌵【Stands Up to Active Cats】:14.6 inch super wide base. Its robust construction and stable base ensure that it can handle climbing, jumping, and playful adventures without wobbling or tipping over. Even adults cannot easily push down, providing absolute safety for any member.
🌵【Protect Your Furniture】: By providing a dedicated and enticing scratching surface, the Blooming Cactus Cat Tree helps redirect your cat's scratching behavior away from your precious furniture, preserving your beloved pieces from scratches and damage.
🌵【One Step Assembly】: The Blooming Cactus Cat Tree comes with straightforward assembly instructions. Opening the packaging and you only need to install it in just one step, allowing you to easily set up and enjoy in no time.
Last update on 2023-12-07 / Affiliate links / Images from Amazon Product Advertising API
We absolutely love this cactus post.  It's a fun and bold design that will instantly become a talking point for any visitors.   It comes in two sizes, too, so you can pick the right one for your cat and for your home. 
 It's handmade which is why it looks so great
Features:
The large is 17.7 x 17.7 x 41.3 inches
The small is 14.6 x 14.6 x 31.5 inches
The stable base makes it ideal for climbing 
Pros:

It's made from natural sisal which is one of the most durable materials for a scratching post
It has a very cute and striking design
The cactus arms encourage climbing
Cons:
Whilst we love the design, we can imagine that a lot of people won't.
It's worth bearing in mind that there's a cheaper $29 version being advertised by another company on social media.  This isn't the same product and instead appears to be a scam – so please be careful about where you order it from. 
Best lounge cat scratcher – Catit Cat Scratcher Boards with Catnip
Catit Cat Scratcher, Tiger Print Lounge
2 in 1 cat scratching post and lounge with a jungle stripe design
Corrugated scratching surface encourages instinctual cat behavior including cat scratching, stretching, and spreading their scent
Corrugated scratching surface encourages instinctual cat behavior including cat scratching, stretching, and spreading their scent
A cat's need to scratch is instinctive and is important for cats' health
Dimensions: 17.5 L x 7.5 W inches
Last update on 2023-12-07 / Affiliate links / Images from Amazon Product Advertising API
This is a really simple horizontal cat scratcher that would be ideal for anyone hoping to travel with a cat either in a motorhome or RV or go with their cat in a hotel room.  Of course, this is popular for use in the home, too. 
This has catnip included in it so help make it more attractive to your pet
Features
Dimensions: 8.86 x 19.69 x 3.15 inches
Weight: 12.8 Ounces
Can be used either side up
Pros:
It's easy to store when not needed
Includes cat nip
Comes in a range of designs
Cons:
Cardboard may eventually begin to shed and need sweeping or vacuuming up.
This has so many positive reviews on Amazon it's hard not to include it in our list.  The horizontal element makes it ideal for cats more used to stretching out low and scratching than getting high-up. 
Best floor to ceiling scratching post – S-Lifeeling Cat Climbing Toys Tower
No products found.
We were quite surprised to see that there weren't all that many floor-to-ceiling cat scratching posts available on Amazon.  This was the best reviewed.  If you're just looking for a multiple-level tower or post, then we're reviewing some other types below.  We do like how simple this is and how high the post and the platforms are – ideal for cats who like to climb. 
This is ideal for people who are short on space.  The spring-loaded pressure pole won't damage the ceiling but will keep it in place. 
Key Features:
Dimensions:  27 cm x 43 cm (10.6inch x 17 inch), and 286 cm (113 inch) long.
Each layer height is 55cm (21.6inch)
Board thickness 1.5 cm
Weighs 10 kg
4-planks and 4-posts to assemble
Floor-to-ceiling range is from 90inch to 112inch 
Pros:
The material is made from carpet which is easy to vacuum and less likely to shed over your floor.
Using a floor-to-ceiling scratching post can be safer for more active cats who may topple smaller posts either. 
This cat tree will help to keep claws short but is also a great way to encourage climbing.
Comes in a range of three-colors
Cons:
It's not made in the USA which may not be ideal for everyone.

 

If you want to use a sisal rope around the posts, you need to buy that separately. 
This is an example of how diverse the range of cat scratch posts can be. You don't have to go small and you can buy a product that has more than one usage: good for claws, climbing and perches. 
FAQs
Why does my cat run to the scratching post when I come home?
Your cat may be doing it for several reasons known only to them but here's what we think our cat is doing when she does it to us. 
When we walk in our cat runs to the scratching post because she's marking her territory. She's making the area safe for her (and presumably us) and she may even be making the point that we're welcome to come into it.
She's also doing it because she's excited and has had a burst of energy at seeing us walk in.
Why do cats like to scratch?
Cats are very territorial and they release pheromones through their paws to communicate the boundaries of their own space with other cats.  Putting a scratching post in a busy walkway of the house can help cats feel more at ease especially if you have an indoor cat.
Cats also use scratching to file their claws.  You may still have to give them a helping hand by using a clipper (or ask your vet) but outdoor cats will find trees and rough surfaces in the garden and neighborhood useful.
Scratching is also good exercise and it gives the cat a good stretch. You've no doubt already noticed how adept your cat is at doing yoga poses so scratching is a great way of pulling the muscles in their backs and legs tighter. 
It may also be that your cat just enjoys certain textures.  It's an issue in our home because our little menace loves to scratch wallpaper or sofas seem to take the biggest hit in our household.
What type of scratching post is best for cats?
It depends on what texture your cat prefers but sisal rope is the most popular material and it's also pretty durable.  Cardboard is another sort and is used in particular on horizontal loungers.  If you're worried your cat might not be interested, you can always add catnip or buy one already infused with catnip to make it more enticing. 
How many scratching posts should a cat have?

We'd recommend that you have at least as many scratching posts as you have cats.  If you have an indoor cat, it's good to give them a choice and you may find adding additional posts or loungers in your home will save your furniture. 
How often should you change cat scratching post?
It'll depend on how much of a battering it takes. If you have more than one cat you may need to replace it sooner.  We've found that it's quite obvious when we need to buy another one because you'll see the cat struggling to use it effectively.
Sisal rope scratchers may just need to be re-wound around the post or you can buy a replacement rope if the base and post is still fine. 
We've bought posts that have lasted a couple of months and then others have lasted for two years.  One of our cat's current posts is coming undone and has started to shed but she's still getting a lot of pleasure from it.  There's no reason to change a scratching post other than when it's falling apart or if it's too dirty to clean. 
Will a cat use a second-hand scratching post?
Some cats will happily use a second-hand post but not all.  As we mentioned earlier in the FAQs, cats use scratching posts to mark territory so even though humans can't smell the pheromones used to do this – cat's can. 
Your cat might find it stressful having the scent of another cat on its post.  You could try cleaning the post but we'd advise buying a new scratching post.  They don't have to be expensive and it'll ensure your cat isn't left anxious about other cats stopping by. 
Is there a spray to keep cats from scratching furniture?
You can buy several products to help keep cats from scratching furniture. 
Last update on 2023-12-08 / Affiliate links / Images from Amazon Product Advertising API
Do scratching posts really work for cats?
Scratching posts do work for most cats but for stubborn felines you may have to try different sorts and styles to convince them to scratch a post and not your furniture.  You could try adding catnip or integrating play into the post.  We've listed a few above that have interactive toy elements or you could use your own things.  Cats can be fickle about new things so don't be too discouraged if they don't start using it right away.  Our cat wouldn't touch one for two months until we moved it and now its her most used one.
The best scratching post for cats will look different to every owner.  You may be constrained by budget or by space or you might want something with a little design to compliment your décor.  There's a big range of posts available for you to pick from and we hope we've helped to narrow down the search. 
Related Posts:
9 things to consider before buying a wicker cat carrier