Knowing how to travel with a cat on the train is all about preparation: a little bit of planning can go a long way in making the journey as easy and stress-free as possible.
Traveling by train with a pet is often safer than going by plane but it can still feel like a momentous undertaking, especially if you have to do it alone or if you have additional baggage to carry with you.
We wanted to offer some of our tips to make train travel with a cat as straightforward as possible.  We hope you find them useful and helpful and we wish you happy onwards travels!
How to Travel with a Cat on a Train
Before You Book Your Tickets
Firstly, you should double-check that the train company you're using accepts cats onboard. You'll also want to read up on any rules and regulations so that you can prepare ahead of time any special requests made by the operator.  We'll list some of the advice by national train companies at the end of this post.
You should find out whether you need to buy the cat a ticket or whether it's free to take them.  You should also ask whether it's okay to turn up at the station on the day without pre-warning or if you need to register them in advance.
When you're looking at booking, double-check the first-class prices and if you have the available finances, consider booking a seat in that carriage as it will be much quieter.  
You should also try and reduce the number of connections where possible.  The stress of the journey will be in platform-hopping so the longer you can settle into your seat on one train the better.


Avoid traveling at peak times of the day.  In particular, avoid the pre- and post-work rush hours. You'll have more chance of getting a seat and there will be less noise and movement to disturb your cat.
If you're traveling by train at the height of summer or winter, then be mindful about the temperatures both inside the carriages and on the platforms and in the stations.  Avoid times when it's likely to be too hot or too cold.
Make sure you have a suitable and safe cat carrier to use.  Ideally, it'll be one they're already used to using. It doesn't need to be a traditional hard or soft carrier as there's a wide range of other options for train journeys including cat backpacks and even cat strollers!

If you have a calm cat who's happy in the carrier, you can even buy fabric carriers with zipper wings on the side that can open out to provide additional space. 

As always, we're an Amazon affiliate so if you make a purchase through one of our links, we may make a small commission at no cost to you 🙂
Last update on 2023-10-03 / Affiliate links / Images from Amazon Product Advertising API
How to Travel with a Cat on the Train: Before You Go
Take the cat carrier out and place it in a public area of the house ahead of your trip so that the cat isn't ambushed by it on the day you leave.
If your cat tends to get nervous in a carrier, try spraying it with cat calming spray (Amazon link) or add familiar smelling bedding or toys.  You might also like to use treats to help them associate the carrier with pleasant experiences.
Cats can suffer from motion sickness just like humans.  Give them a meal around 5-hours before you leave so that they won't have a full stomach for the journey.
Add newspaper, puppy training pads (Amazon link) or an old towel to the bottom of the carrier in case of any accidents.  You should pack something to clean up any mess just in case, too.
For long journeys, take some snacks and a collapsible water bowl.
You can also buy disposable litter trays. (Amazon link) It's unlikely that your cat will want to use it when they're traveling but it can be useful to have. If you're traveling by train with your cat into another country, taking some familiar cat litter with you with help settle them in when you reach your destination.
Take something with you to cover the carrier with.  It could be a towel or a blanket. This helps reduce motion sickness and will help reduce anxiety in scared cats. It will also give your cat some privacy (and the chance to sleep). You might find an uncovered carrier garners some attention from children and fellow passengers.
If you think your cat will be anxious, and you're not sure if a calming spray will work, you can talk to your veterinarian who may be able to recommend a sedative.
Try and stay calm yourself.  Cats are very adept at picking up on emotions. If you're stressed and anxious, then they may start displaying that behavior, too.
Make sure you have any required medications or special dietary food to hand.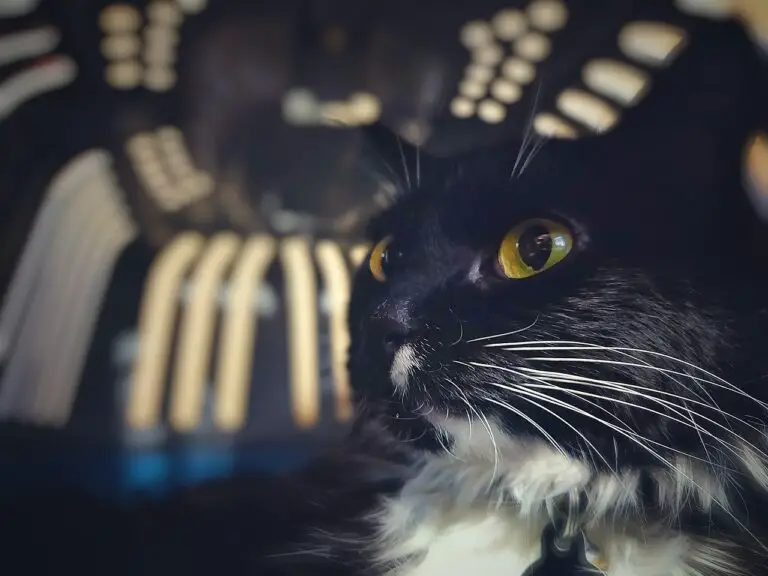 On the train with your cat
Where possible find a quiet place to sit.
You don't want to deprive someone else of a seat but if the carriage is sufficiently empty, put the carrier on the chair next to you – perhaps next to the window so you have the aisle to prevent attention and movement.  Train staff may charge you for the seat if they see you using it so be mindful of that.
If not, putting the carrier under the seat in front of you will give the cat some privacy and stop them from becoming over-stimulated by the passing scenery.
Make sure the cat can see you or that it knows you're nearby.  Sometimes it's helpful to put something that smells like you either in the carrier itself or next to it.
Talk to your cat in a low calming voice so that they know you're there but try and encourage them to sleep as this will make the journey go faster for everyone.
If you're traveling alone, you may want to limit your liquid intake so that your cat isn't left unattended when you're in the bathroom.This isn't always possible or ideal.  Take your cat with you to the bathroom or ask a member of staff to watch them while you go.  We would not advise leaving them unattended.
Keep anything you might need in the event of motion sickness, illness or agitation in a place that's easy to reach.  Many cat carriers have side pockets which may be helpful.
Keep the carrier closed at all times.  The last thing you want is them getting out and into the carriage.
If they're prone to escaping their carrier, buying a carrier when the two sections can be screwed together can be useful as is having a metal grate on the front.  In soft carriers and backpacks, you might like to attach a harness or leash.
Traveling with your cat by train: Country Advice
In the US, Amtrak allows cats in carriers to travel for $26 or 800 Amtrak Guest Reward points on most journeys of 7-hours or less.  You can use a hard or soft carrier but it has to be well-ventilated and leak proof. The pet carrier also counts as one piece of carry-on luggage.  You can find out more about pets on trains by visiting the Amtrak website.
In the UK, travelers can take up to 2 cats per passenger on a train so long as they're not going to cause a problem for other people and staff.  The cat has to be in a carrier that is closed.  You are not allowed to put your cat on a seat or you'll be charged a ticket. 
In Canada, VIA allows cats in carriers to travel with their owners.  You have to make a reservation for your pet which can be done when you book your own ticket or up to two days before departure.  There is a fee to pay. It's one cat per passenger and only one cat in each carrier. Cats must be at least 12-weeks old and fully weaned. The VIA website has a very detailed section on some of the rules of traveling with your cat and we'd suggest that you take a look before booking.
Products that may be useful when traveling with a cat by train
The only thing you have to buy is a secure and durable carrier but there are a few products that you may like to consider or which may be useful for your upcoming trip.  
Last update on 2023-10-03 / Affiliate links / Images from Amazon Product Advertising API
Last update on 2023-10-03 / Affiliate links / Images from Amazon Product Advertising API
We hope you've found How to Travel with a Cat on a Train helpful
Traveling with cats may seem a daunting task but with a little bit of preparation and a few deep breaths, you'll be happily on your way in no time.