We hope you like the products we recommend! Just so you know this post contains affiliate links and I will be compensated if you make a purchase after clicking our links.
Disclaimer: As an Amazon Associate, I earn from qualifying purchases. I get commissions from purchases made through links in this post.
You can buy a lot of things at Asda: pet food, cat supplies, toys and treats.  
Once upon a time, you could have bought a cat carrier, too.
Unfortunately, that's no longer the case.  
(But keep reading for just a few sentences more and we'll tell you from which UK high street retailer we bought our £20 cat carrier.)
Luckily, other UK retailers (both online and on the high street) sell a wide range of cat carriers from soft-sided, to durable plastic ones, wicker baskets and even ones made from luggage-grade material like the Sleepypod. 
You can't use Asda for your cat carrier needs anymore, but assuming that you're looking for a secure, durable and reasonably priced hard carrier, then we know another place on the UK high street where you can. 
And the reason we're recommending it is that we bought one in December 2018 for our little black house cat. 
In the UK, Argos stocks around 8 cat carriers on its website.  You probably have one of their stores nearby, or you could make use of its delivery service.  If you had your heart set on getting a cat carrier at Asda, then this is good news because it's a much better carrier than the one the supermarket was advertising, anyway. 
Our cat went into a cattery for 5-days.  We spent hours both online and in-stores in the run-up to Christmas looking for a decent carrier and similar to you, we'd hoped to add it to our home delivery shopping.  
We used Argos instead. 


Argos Large Pet Carrier


It's not heavy but the handle feels secure, strong and robust. 


Our only niggle is that the medium wouldn't be large enough for our cat and she's really not that big at all.  When we read the reviews and looked at the dimensions, we decided to pick the large carrier to be on the safe side. 


We were right.
Make sure you measure your cat and then cross-check the numbers against the carrier's size as listed on the Argos website. You may find it better to get the bigger size, too, but don't worry there's only £5 difference between the medium and large.


It's well-ventilated and it's easy to clean in the event of any accidents. 
The large dimensions are H33, W38.7, D58.4cm and it weighs 1.98 kg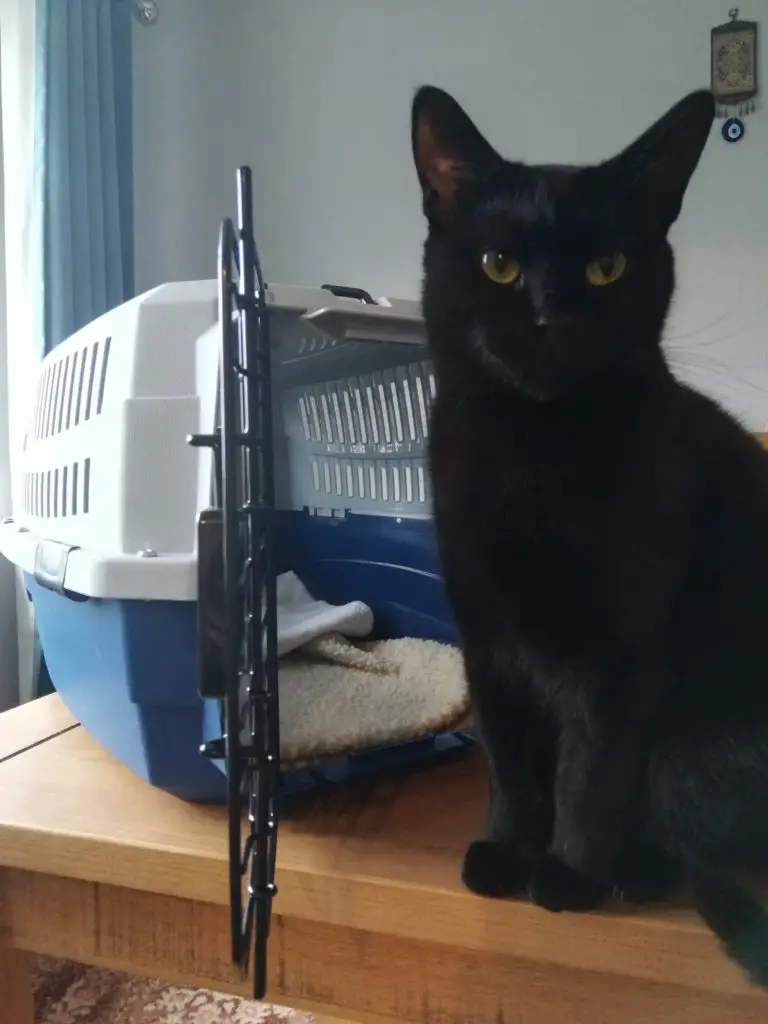 Seven months later, and we're still very happy with our cat carrier.  Saying goodbye at the cattery is difficult enough without having to worry about what we're putting her in to get here there.  
Don't worry that you can't pick one up from Asda with your food shopping.  Head to Argos instead and pick up this one.