We hope you like the products we recommend! Just so you know this post contains affiliate links and I will be compensated if you make a purchase after clicking our links.
Disclaimer
As an Amazon Associate, I earn from qualifying purchases. I get commissions from purchases made through links in this post.

Taking a cat to the vet is stressful enough without worrying about whether you've got the right carrier for the job.
Our cat is pretty chilled about going to the veterinarian. She sits in her carrier with her nose pressed to the door and her eyes wide at the passing scenery.  
We're lucky, but it doesn't mean we relish the visit.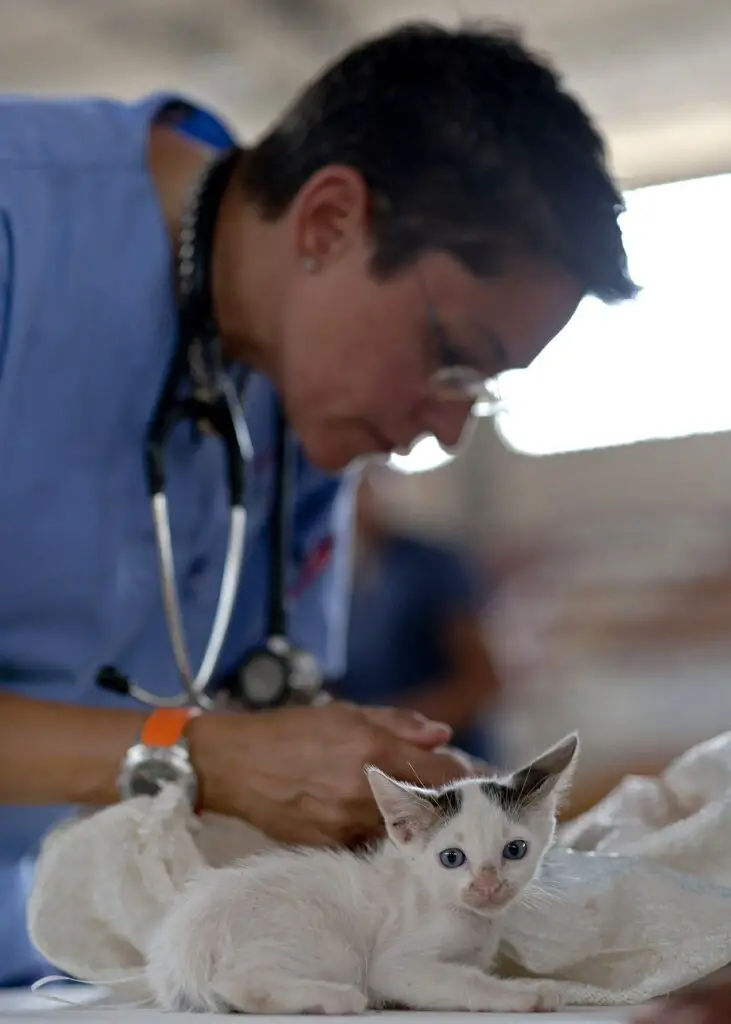 Our cat was an underweight unneutered stray with a respiratory illness and a list of minor ailments that added up to multiple veterinary appointments.
Our vets are fab but we're happiest when we only have to see them for her booster shots.
Fortunately, we have a hard carrier that's secure and comfortable to carry.  We can focus on getting her there and back again without too much anxiety.
Our biggest piece of advice to owners is to buy a cat carrier before you need it. It's easy to keep putting it off or to keep borrowing from other people but what if there's an emergency?
Unfortunately, not all vet visits are planned and you don't want to be scrambling around looking for something suitable.
So, for those who don't have one or for anyone looking to buy a new one, what's the best cat carrier for vet visits and where do you find it?
What's the Best Cat Carrier for Vet Visits?
We're going to get right to it.
Below you'll see some of our favorite carriers along with a link to the relevant Amazon page.
One reason we like using Amazon for cat carriers is that you can pour over the customer reviews and many include photographs or lengthy descriptions of their experiences with each product. Shipping is quick and reliable, too, and that can be useful if an appointment is rapidly approaching.
We've added a frequently asked question section at the bottom, too, in case you'd like some extra information about using a cat carrier to take your pet the vet.
We may make a small commission at no cost to you from any qualifying purchases you make, but we only ever recommend products that we think are worth buying. 
Amazon Cat Carriers for Vet Visits
Best Budget Top Loading Hard Carrier 
We've bought this carrier from UK store Argos and have found it's fantastic value for money.  It's one of Amazon's biggest sellers, too.
19 inch and 23 inch models
Steel wire door with spring-loaded latch
2-doors with one on the front and the other on the top
Lots of ventilation
Four latches to secure the kennel but can also be screwed for added security.
Some older reviews write that the top-door doesn't close properly and is unsafe. We didn't have that problem but it's possible that this has now been fixed as when you click "recent reviews" people are very happy with the carrier.
Best Budget Top-Loading Soft-Sided Carrier
Uses anti-escape zippers
Leash hook on the inside for security
1 top-opening door and 2-side opening doors for easy access
Luggage attachment included
Seatbelt attachment included, too
Airline approved for a number of US airlines (always double check with the airline though as regulations do change).
Adjustable shoulder strap
Collapsible and easy to store
Well ventilated
Storage pocket for treats and paperwork
There's a video on the website explaining how it works
Washable fleece pad in the bottom
Made from non-toxic materials
Best Cat Carrier for Two Cats
We really love this double cat carrier.  It's really versatile.  You can have two separate compartments that are joined together, two compartments that are entirely separate or join them together into one large carrier.
Easily attaches to a seatbelt in a car
Easy to set-up
Folds flat easily
It has more than one entrance for easy access
Comes with a carry case
Hooks to hang a hammock (although hammock is sold separately)
Washable mats included
Pegs included to secure the carrier into the ground
Best Cat Carrier with Wheels
Carriers can be heavy even before you put your cat in it so sometimes it can be easier to use a cat carrier with wheels.
You can take off the wheels and it becomes a regular carrier
34.5″ telescopic pullout handle
Zip openings on the front and top-openings
Easy to assemble
Best Stylish Cat Carrier
You'll find a few stylish bags sold as cat carriers, but we've not been convinced by them.  We love the design of the SleepyPod.
It's a mobile pet bed, carrier and car seat in one.
It's made from luggage-grade material
There's no assembly needed.
The padded shoulder strap makes it easy to carry
Washable bedding
The dome top allows the cat to have some privacy
As the sleepypod is also a bed it should mean that your cat is already used to it.  Putting the dome top up turns it into the carrier
Best Cat Backpack
If you have a shoulder or wrist injury then it might be better to use a cat backpack.  We really love the spaceman bubble backpacks because they look so cute but for vets visits it will probably be more useful to have a more traditional backpack like the Pet Ami.
Comes in multiple colors
Padded shoulder straps for comfort
Waist and chest buckles for support
Side pockets for paperwork or treats
Included collapsible bowl
Well ventilated
Two-way entry
You can unzip the mesh window
Sherpa lined bedding
Reinforced structure so it won't collapse in on itself
Included safety strap and buckle to reduce risk of escape
Best Space-Saving Hard Carrier
We wanted to add in another hard carrier for readers who might prefer a more durable carrier.  This is useful because hard carriers can be a difficult to store in small spaces.
Easy clean and wipe down
Large opening makes it easy to walk a cat in
You can buy this as an xl cat carrier size, too
It folds down for easy storage
Includes a machine-washable pet bed
Locking door handle and unlock push button
Comfortable grip handle
Frequently Asked Questions
Do cats prefer hard or soft carriers?
It depends on the cat's personality.
As a rule, we often recommend using a hard carrier for cats that are aggressive, nervous or anxious.  Plastic carriers are more secure and will be far easier to clean in the event of a messy accident (or two).  Cats prone to clawing, biting or tearing are less likely to bust out of a hard carrier, so you'll feel more confident carrying them, too.
Soft-sided carriers are more suited to cat's who aren't bothered by carriers or who won't chew or claw through things under stress.  Softer carriers are more comfortable and are also easier to store in the house.
How do I get my cat into a carrier for the vet?
The key is to be confident and not to hesitate. 
Cats are very sensitive to their owner's mood and if you're nervous they'll pick up on it straight away.  You should be deliberate in getting your cat inside a box because if you hesitate or are too softly-softly, you'll probably end up empty handed and with an empty crate. 
The Cats protection has a video on YouTube which explains the towel method of getting a cat into a carrier.
One of the best things to do is to carrier train your cat as soon as possible because getting them used to it will save you so much trouble further down the line.  You can read more about it in this post:
If your cat likes treats, then you can also try bribing them into the carrier.
Can I take my cat to the vet without a carrier?
We'd always advise using a carrier because they're secure and you're in control. You can use a harness but cats like to hide and that's difficult when they're out in the open on a leash.  A covered carrier will at least give them the chance to retreat into something.
We wouldn't advise taking your cat to the vet in your arms. You can watch the 'pillowcase' method on YouTube but it's far easier just to use something that's safer and more secure. 
If your cat like treats, then you can also bribe them into the carrier.
How do I measure my cat for its carrier?
The carrier should be big enough for your cat to stand up, turn around and lie down in.  Usually, you measure from the nose to the base of the tail, the bottom half of the leg to the ground and then along the shoulders.
This will give you the three numbers you can compare to cage sizes.  It is easier to estimate sizing with cats than it is with dogs as felines don't have such a wide range of sizes and weights like dogs.  Knowing whether your cat is small, medium or large (which you'll already know from feeding), should help you work out a basic size.
If you're unsure, we'd recommend making use of Amazon's Q&A section as other owners and (often the sellers) will give you a pretty accurate idea of whether it's big enough for your pet.
What should I look for in a cat carrier?
You'll want a carrier big enough for your cat but don't be tempted to get one that's too much lager.  Cats prefer small spaces to hide inside and ones that are too big can make a cat feel insecure and anxious. Buying an over-sized plastic carrier can also mean the cat will slide around during transit.
A top-loading carrier will make it easier for vets to get sick or injured animals out carefully.  This also gives them the choice to treat the pet inside the carrier.
You should check the fastenings and zippers as a determined cat will make light work of second-rate security.
Look at the empty weight of the carrier if you have wrist or shoulder pain.  Some carriers are heavy even before you put a pet inside.  You might also prefer one with an adjustable shoulder strap or attachable wheels.
Think about how easy the carrier will be to store when it's not in use
How easy will it be clean if your pet has an upset stomach from anxiety?
Make sure the handles, grates, doors and clips are hard-wearing and durable.
Does the carrier come with accessories like a fleecy mat or collapsible water bowl?
How can I get my cat used to its carrier?
You should start leaving the carrier out in a public area of the house with the door open.  You want the cat to explore it on its own terms and ahead of any appointments.  You could leave some toys or treats inside as well as familiar smelling bedding.
You can buy synthetic pheromone sprays like Feliway which encourages calming feelings in some cats.
Any effort you put in ahead of time should pay off massively further down the line. 
How can I help keep my cat comfortable in its carrier?

Fleece cushions and blankets can make harder carriers more comfortable. 
Make sure there's ample ventilation both for air flow and to keep the cat at the right temperature.  Adding in familiar smelling toys can help as can adding clothing that smells like you.  We find that talking to our cat helps keep her calm. Some owners swear by the calming effect of the radio or classic music. 
You should also drive carefully and try to keep the carrier level when you're walking. 
Can I borrow a cat carrier?
 You can borrow a carrier but it's far easier to have your own on hand.  In an emergency, you may not be able to use someone else's carrier.  Your cat will also be able to smell the other cats who've used it before then which could cause additional stress.  You can also clean and maintain a carrier you own to a satisfactory standard.
We'll leave the links to the carriers mentioned above here.
You can use them to shortcut to Amazon, too, as there's plenty of other options that you might find useful.