We hope you like the products we recommend! Just so you know this post contains affiliate links and I will be compensated if you make a purchase after clicking our links.
Disclaimer
As an Amazon Associate, I earn from qualifying purchases. I get commissions from purchases made through links in this post.

It's a real gut-punch when your cat goes missing.
If you're standing on the doorstep and they're not answering your calls, then it doesn't matter whether it's been a few hours of a few days; it feels awful.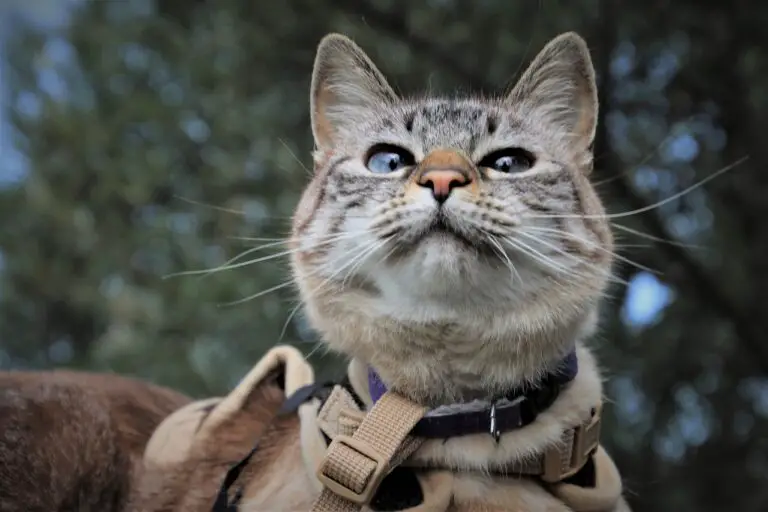 We love cats because they're so independent but that comes at a cost. Cats do tend to wander off and they have no idea how much worry that causes. It's especially upsetting if your outdoor cat requires medication or has a special dietary food.
But what if you're worried about losing you cat but you don't want to keep them indoors? Is there a way to track a cat so that you know where they are when they don't come home?
Yes, there is.
We wanted to take a look at what the best small cat trackers on the internet were and are they worth buying?
We use affiliate links so if you buy something using them then we may make a small commission at no cost to you 😊
In a hurry? We'll add two of the most popular trackers here so that you can jump in and start shopping. 
Last update on 2023-10-02 / Affiliate links / Images from Amazon Product Advertising API
What to look for in cat trackers
Be careful because some pet trackers aren't suitable for cats. 
Some trackers will be too big for a cat collar and too heavy for a cat to wear.
This is often the case if the product has been specifically designed for dogs so always check before buying. 
Many GPS trackers for cats require a subscription so be aware there may be a monthly cost even after you've purchased the tracker itself.  We've included small cat
trackers below that don't need a subscription.

 

Battery life can vary between trackers, too. You'll find the information on the manufacturer's website or the product page you visit online.

 

Some GPS cat collars (and others) use radiofrequency. You can use a GPS cat tracker through your smartphone and it shows the location in real-time which should make it easier to locate a missing cat (but if you live in an area with poor service then there may be poor coverage). You also need to be mindful about the battery length of GPS trackers as they can run down relatively quickly.

 

Radiofrequency trackers are much smaller than GPS trackers; they use the same technology as hand-held radios (walkie talkies) so the range is more limited but they are more accurate and the battery lasts much longer.

 

You may be tempted to pick GPS over radiofrequency because of how integrated GPS is in our smartphones and often in our cars but we'd recommend you study the pros and cons of both before buying. You may be surprised at how much more suitable radiofrequency is.

 

If you're worried about your cat wandering too close to a specific area, you can buy cat trackers with a geofence option. Geofence means you'll get a notification if a cat wanders out of a specific area or travels a certain distance.

 

You should decide, too, whether you want real-time tracking or not as this will mean buying a subscription. 
The 5 Best Small Cat Trackers
We've selected the best small cat trackers available online. We'd always recommend that you study the features before buying as well as reading verified customer reviews.  
Loc8tor tracking Cat Collar
This is the world's leading pet tracker and it's award-winning, too.  It uses radiofrequency and can work both indoors and outdoors
Loc8tor Pet Tracker | Tracking Cat Collar | Pet Tracking System | RF Tracking & Activity Monitor | No Monthly Fees | Cat & Dog Pet Finder | Includes 2 Transmitter Tags
EXPERIENCE AMERICA'S #1 PET TRACKER - Easily locate your pet within 1-inch by using the most accurate pet tracking device which features state-of-the-art RF-based technology.
MORE ACCURATE THAN PET GPS TRACKERS - Our unique proprietary RF-based directional cat and dog tracker technology is significantly more accurate than any GPS pet tracker available on the market.
NO SUBSCRIPTION FEES - Our pet tracker does not require costly monthly subscription fees like a GPS pet tracker does, which adds up over time. Just a one-time cost of our pet locator provides a lifetime of peace of mind.
HIGHEST QUALITY AND AWARD-WINNING TECHNOLOGY - Our state-of-the-art RF pet locator technology has won numerous awards and is not only the ultimate pet locator, but it can also help you locate other valuables.
Last update on 2023-10-02 / Affiliate links / Images from Amazon Product Advertising API
The handset will pick up the signal of the cat (when in range), and then direct you towards the cat using visual and audio indicators.
It's lightweight, weighing 0.175 ounces (5 grams) so is ideal for cats to wear on their collar without much bother. 
Features:
1 Lithium Metal batteries required (included).
Maximum range: 400 feet (122 meters)
Beeps and lights will tell you when you're heading in the right (or wrong) direction.
Pros:
Each handset can find up to 4 cats –  just add a collar tag to each cat. This pack comes with 2 tags included but you can buy additional.
Guides you within inches (or 2.5 cms) of your cat
Easy to use
You can press a button that beeps on the collar.  Over time, you can train your cat to come home when it hears the beep.
The handset is small and easy to keep to hand
It works worldwide so you can take it on holiday
You have a two-year warranty
Includes splash proof collar tags
Cons:
Does not include a collar
This is one of the most popular tracking devices for cats. We love that you can use the handset for up to four cats (you'll need to buy an additional two tags).
Tracki 2020 Model Mini Real time GPS Cat Collar Tracker.
This is a GPS tracker for cats that does require a monthly subscription.  The longer you subscribe up for the cheaper the monthly fee is. 
Sale
Tracki GPS Tracker for Vehicles, Car, Kids, Dogs, Motorcycle. 4G LTE GPS Tracking Device. Unlimited Distance US & Worldwide. Small Portable Real time Mini Magnetic. Subscription Needed
Unlimited distance real time tracking 4G LTE +extra triband. Monthly fee is required. Full USA & worldwide coverage. International SIM card included. We are USA based company focused in GPS tracking. Our competition are just white label resellers. Our clients are top cellular Giants such as Vodafone. Track Vehicles, Cars, trucks, Children, dog, elderly, motorcycle, ATV, boat, equipment, tools, assets, valuables. Monthly fee of 19.95USD is required or as low as 9.95USD for long term prepaid plans
Tracki is smallest & lightest, 1.75x1.5x0.55in, weight only 1.26oz. Revolutionary 4G LTE + 3G + 2G combined works everywhere with any network new or old for best coverage. Trackers that has only 4G LTE has lesser coverage than Tracki. Comes with embedded built in SIM card included and works worldwide. Included attachments: Strong magnet, Dog collar waterproof silicone cover, Belt clip, Key-chain, lanyard. 5 years history. We believe customer is King and provide live 7 days a week phone advisors
Rechargeable battery life is up to 5 days (the more it moves the lesser the days) tracking real time every 1-5 minutes. If real time tracking is not needed, battery lasts 30-75 days tracking 1-3 times per day (using battery save mode). Optional accessory (not included ASIN B07YVNV82V) comes with 6 times longer life 3,500mAh battery + magnetic waterproof box, extends battery life to 3-4 weeks at 1 min update and up to 10 months tracking once a day
Works with GPS satellites when outdoors as primary tracking technology and when indoors Wi-Fi as a secondary backup tracking. Tracki listens to nearby Wi-Fi routers MAC ID, matching IDs to Wi-Fi database for accurate location when GPS is not available. See the tracking live on the map including compatible with Google Street view. Get real-time alerts when the tracker crosses a Geo-fence zone you set. Receive SOS, low battery, speeding, start moving alerts via App notification, SMS or email
Lifetime warranty including lost or damaged device. Tracki is cutting-edge & easy to set up working out-of-the-box within a few minutes. Tracki comes included with highly rated smart phone Apps compatible with: Android, iOS and all Internet browsers. Monthly fee of 19.95USD is required or as low as 9.95USD for long term prepaid plans. Included attachments: magnet & Waterproof silicone cover which is also a dog attachment.
Last update on 2023-10-02 / Affiliate links / Images from Amazon Product Advertising API
This is a lot smaller than other GPS trackers. It's 30% smaller than its closest rival.  GPS trackers are known to be bulky so if you prefer to travel light then this will be your best bet.
Features:
Product dimensions: 1.74 x 1.5 x 0.6 inches
Weight:1.26 ounces
International SIM card included
Lifetime warranty
Live customer service
1 Lithium-ion batteries required (included).
Pros:
Easy to carry in a bag or pocket

 

You can attach it to other things, too, so when you're not using it for your cat try it on luggage or even children.

 

There's a 1-month battery life

 

It's easy to set-up
Real-time tracking so you know where your cat is at that moment. 
Cons:
You have to pay a monthly subscription
This is versatile enough that you can use it on objects and people as well as cats. 
Tractive LTE GPS Dog Tracker
This is an impressive GPS tracker that's great if you have a cat than wanders or goes "missing" regularly.  What's interesting with this kind of tracker is that you can also see where your cat disappears to; it's a good insight into where they spend their free time. 
Sale
tractive GPS Tracker for Dogs - Waterproof, GPS Location & Smart Pet Activity Tracker, Unlimited Range, Works with Any Collar (Coffee),Beige
REAL-TIME GPS TRACKING: See the location of your dog and track them anywhere with no distance limit
MARKET LEADER: Trusted by millions of
customers and winner of numerous international awards; rated 4.7 out of 5 on Trustpilot (based on almost 20k reviews)
WORKS WITH SUBSCRIPTION: The subscription covers all the costs of the integrated SIM card and data, starting from $5/month (varies depending on subscription plan); try it for free with our 30 day money back guarantee
BATTERY LIFE: Go up to 15 days without charging, the exact time will vary based on coverage, usage, and activity
WORKS ABROAD: Worldwide coverage (175+ countries) with unlimited data and range to enjoy a worry-free vacation with your pet
Last update on 2023-10-02 / Affiliate links / Images from Amazon Product Advertising API
There's a virtual fence where you can you'll get notified if your cat leaves a specific area. This is useful if you're worried about your pet going too far beyond your property or territory. 
Features:
Dimensions: 2.83 x 1.14 x 0.63 inches
Weight: 1.28 Ounces
Batteries: 1 Lithium Polymer battery required
Recharges in 2-hours and battery lasts 2-3 days.
Pros:
Real-time tracking across unlimited distances

 

You can easily review tracking history

 

It's easy to set-up

 

It's waterproof

 

There's a rechargeable battery

 

This has a competitively priced subscription plan
You can monitor your cat's general fitness levels, too.
Cons:
You have to pay for the subscription upfront to get the cheaper rate. 
We have to admit that we'd be pretty interested to see where our cat goes when we're not around. 
Cat Tailor – The Smallest and Lightest Bluetooth Waterproof Cat Tracker
This has the benefit that it's been specifically designed for cats so it's small and lightweight. It uses Bluetooth to track your cat so there's no subscription 
Cat Tailer Cat Tracker - Small and Lightweight Waterproof Bluetooth Pet Collar Attachment, 328 foot Range, Replaceable 6 Month Battery Life, Android/Apple iOS Compatible
Cat Tailer tracker tag for cat collars is the best cat tracker no subscription device in the cat accessories category that attaches just like any ordinary name tag on a pets collar; no more hide and seek!
SMALL AND LIGHTWEIGHT PET TRACKER TAG - Cat Tailer is one of the smallest animal trackers (not limited to being an animal tracker for cats only, can be used as a dog tracker, however, it does have a cat decal) weighing at 7 grams and only 27 mm round being unobtrusive and sturdy enough to keep up with your pet's adventures.
BLUETOOTH LOW ENERGY TECHNOLOGY - With a 328 feet/100 meters range, the Cat Tailer is a kitten collar tracking device that helps you find your pet location with Bluetooth frequency (does not use GPS) around your house, yard, or neighborhood. CAT TAILER IS NOT A GPS CAT COLLAR TRACKER.
SMARTPHONE CONNECTIVITY & ONE YEAR WARRANTY WITH 100% SATISFACTION GUARANTEE - The iPhone and Android Tracker tags your cats location determining approximately how far you are from your pet and can be configured to notify you when they come back in range (download in the App Store or Google Play Store)
MADE IN THE USA BY AMBYSTOMA LABS - Out of Vero Beach, Florida, here at Cat Tailer, we have a passion for keeping humans and their furry friends together. If you are having any trouble getting your device set up or working properly, please contact Cat Tailer Support directly and we will assist you one-on-one to make sure you are getting the most out of your cat collar tag before making a return.
Last update on 2023-10-02 / Affiliate links / Images from Amazon Product Advertising API
 The battery lasts around 6-months. 
Features
Ranges of up to 328 feet
Product dimensions: 1.08″ in diameter
Weight: 0.28 oz.
Range: 328 ft (100 meters)
Battery: Included CR1632
Pros:
There's an easy user interface on the app
You can add multiple cats to the app and track them all in one place
It's lightweight
It's waterproof
It's designed and made in the US
There are no subscription costs
Cons:
Out of range might not mean the cat is very far away.  The signal could be blocked by a building or vegetation so lacks the accuracy of GPS. 
This is probably more suitable for indoor cats or for cats that don't tend to wander too far.  
Girafus Cat Tracker RF
This is another radio frequency tracker so it comes without the need for a subscription service. 
Cat Tracker RF Finder Longest Range up to 1600 ft lightest pet Safety Tracking Device only 0.28oz Small Pets Dog Girafus Pro-Track-tor Pet Tracker
CATS ARE NOT DOGS 🙂 They hide in so many places where GPS Trackers don't work! GET PEACE OF MIND with the RF tracker of Girafus and FIND YOUR BELOVED PET WHEREVER HIDES
Girafus Pro-track-tor WORKS IN and OUTDOORS You can find your furry friend even if is hiding in garages, cellars, neighbors house, and many other places!
NO MONTHLY FEE-as For The Gps Trackers! THE RANGE- Up To 500 Metres /1600 Feet (clear Line Of Sight!) Most Of the other Trackers Have A Range of less than 150m/500feet
BATTERY LIFETIME-IMPROVED! 7-10 Days - with the included Rechargeable Batteries and charger. LIGHTWEIGHT PET MODULE only 28oz with battery and 1.6x0.8 inch!
UP TO 4 PETS-choose the Tag quantity you need. WHAT YOU GET: One Base Unit, Tag Unit (1,2,3 or 4 Tags), Batteries: AAA, LIR2032, CHARGER, Velcro strap, Strap, Hook, SILICON SLEEVE-SPLASHPROOF CASE, User Manual
Last update on 2023-10-02 / Affiliate links / Images from Amazon Product Advertising API
This has a range of up to 1600 feet or 500 meters so it covers a wider area than other RF trackers.
Features:
Range: up to 1600 feet
Up to 30 days battery
2.4GHz RF-Technology
Pros:
There's no subscription
It's been preconfigured for up to 4 cats (additional tags may need purchasing depending on package).
There's a direction indicator and LEDs to make it easier to locate the cat
Cons:
Can drain the batteries quickly
RF trackers like this one is useful in places where there's a lot of places for a cat to hide in or under.  Owners living on expansive properties may find this one more helpful than others.
Can I put a tracking device in my cat?
No, microchips don't use GPS.  Your next best option is to use a cat tracker that attaches to the collar like the ones we've listed above. 
Are Cat GPS trackers safe?
GPS trackers are safe but they're not always 100% accurate if your cat likes to hide underneath or inside things.  It can make it hard on the tracker to pinpoint the exact location. For example, if a cat was hiding underneath a shed on your property the GPS might not detect the signal.  An RF tracker would alert you of the collar's signal if you were within range. 
Can I use TILE to track my cat?
You can use TILE to trace a cat but that's not what the product was designed for. It'll work but it's worth looking over the specifications and guides before purchasing to make sure it's suitable for your pet. Trackers specifically designed for cats may have some additional features such as being water resistant. 
What's the smallest cat tracker?
The smallest cat tracker is the Cat Tailer tracker which we've listed above in our post.  It's only 0.8 inches in diameter and weighs 0.28 ounces.  It's made specifically for cats which gives it the advantage of being small enough to fit small and medium-sized cats.